The ESD problem in custom electronics, conductive pavement in
G.R. ELETTRONICA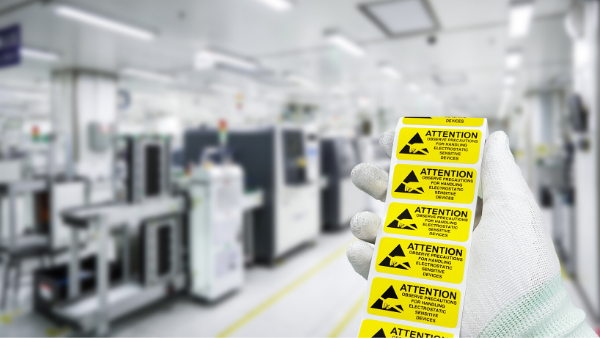 July 20, 2020
G.R. Elettronica specialises in the production of electronic circuit boards that make use of both traditional PTH components and SMD ones, with an automated and/or manual assembly process. All production is subjected to functional and visual tests according to the control and verification plans agreed with the customer. Thanks to the know-how we have acquired, and to our advanced equipment and machines and our qualified personnel, we can guarantee a high level of competence and reliability in the production process.
With the progressive miniaturization of electronic components, there is a refinement of their performance, and their physical characteristics; this fact, however, makes them more vulnerable to the negative action of electrostatic charges (ESD), that can show up anywhere, anytime.
Electrostatic discharges (ESD) damage sensitive electronic components and can reduce their service life. All electronic products must therefore be handled, transported and stored in a state of the art using antistatic packaging. In this respect G.R. Elettronica takes special precautions in all production phases, from the design of circuits, to the storage of components, from production processes to handling and packaging.
We have recently renovated our conductive antistatic floor with 6 mm thick self-balancing plates. The workbenches are made of antistatic material, and the workers are equipped with special bracelets against the accumulation of electrostatic charge. The total elimination of electrostatic charges is practically impossible, but here in G. R. Elettronica we have managed to bring them down to a low enough level to make them harmless.
The protection carried out by means of devices capable of dissipating electrostatic charges towards the ground is called passive protection.
Design Services
G.R. Elettronica values engineering as its strongest point.
To achieve a satisfactory product, the appropriate choices are made regarding design, technology, components, engineering, construction and procurement. In a partnership approach with the customer we can carry out a Full Custom design, or in co-design, utilising to the fullest our know-how, that allows us to identify critical issues, implement improvements and, where possible, cost reductions as well.
Starting from an idea or a specific technique we can develop both hardware and software elements of a project. Starting from a list of components (Bom), a master, a diagram, or a sample we can reproduce, modify or redesign the product.